Ultra-High Performance Concrete & Furniture Design
Posted on 16/12/2015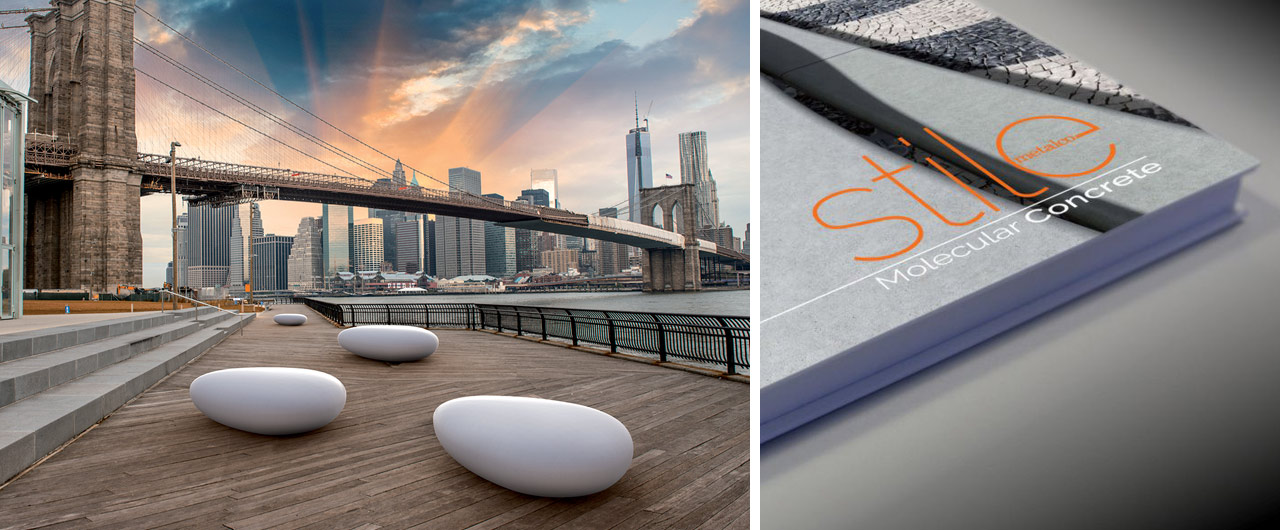 Artform Urban Furniture are delighted to announce the launch of MOLECULAR CONCRETE by Metalco
STILE MOLECULAR CONCRETE is the latest edition to the existing STILE range by Metalco, representing a large new collection of furniture for public spaces made with specially formulated concretes (Performance Concrete and Ultra High Performance Concrete).
This brand new series of innovative products not only challenges the accepted concept of concrete that has been used up until now in the world of furniture for public spaces, it redefines what is possible.
The elegant and playful forms that emerge in these unique products empower designers to reimagine their use of concrete. They allow both landscape architects and interior designers to re-engage with concrete in a brand new way, not only as a structurally resistant material, but also one which is aesthetically refined, blurring the boundaries between indoor and outdoor use.
Strength, Beauty & Practicality
The range comes in two main options; Performance Concrete (HPC) and Ultra High Performance (UHPC). The mixture made of ultra-high performance fibre reinforced concrete provides high technical and structural performance combined with extraordinary freedom of design, due to being able to use thinner layers of concrete.
The much lower weight of performance concrete products also provides clear practical advantages in terms of both cost of transport and ease of offloading. Additionally it allows greater possibilities of placement on site due to much lower load bearing requirements (for instance on terrace roof gardens)
The largest component of the range consists of benches & tables, available in a variety of configurations and with plenty of customisable seating and finish options
In addition to seating there are some other noteworthy additions which are a true "first" for Metalco and Artform Urban Furniture. One great example is the exciting "Living Wall" solution which has already been a big hit at pre-launch exhibitions around the world. This clever, versatile design is sure to be popular with landscape architects, providing a modular yet attractive walled solution for the addition of greenery and plant life on the vertical plane, where space is tight, or to zone off areas.
There are also lots of brand new designs for litter bins, bike racks, bollards, planters, display panels, again all utilising the technical and aesthetic qualities of this new molecular concrete to its full potential.
Material, Specification & Finishes
Mixture made of performance reinforced concrete, with the addition of granite or marble aggregates, with good technical structural performance. The aggregates are carefully selected and available in different colours.
The surfaces are treated with special anti-deterioration products which increase their life-span and their ability to resist the effects of run-off and the appearance of mildew and the like. On request, and at an additional cost, an "ANTIGRAFFITI" treatment is available which permits removing the results of vandalism carried out with different types of sprays and permanent markers.
The possible surface finishes of UHPC products are as follows:
ALFA - smooth surface finish
PSI - textured surface finish
KAPPA - wood grain type surface finish
CUSTOM TEXTURES - custom finish also available (ask for further details)
To reserve your copy of the Molecular Concrete brochure Click here
Metalco is a company internationally renowned for its production of industry leading street furniture, using advanced manufacturing technologies. Continual research for forms and innovative solutions aimed at enhancing the functionality of each item has been the guiding principle behind Metalco's success since the beginning.
The result is a collection of products that have redefined the concept of street furniture & outdoor furniture, winning numerous awards by the major design associations and most importantly, appreciated by the end users.
Artform Urban Furniture are an official distributor for Metalco in the UK.
---
Tel:
0800 542 8118
| Int:
+44 (0)1625 877554
|
enquiries@artformurban.co.uk