7 Innovative products redefining the public realm
Posted on 19/02/2018

"The future is already here — it's just not very evenly distributed"…so goes the famous quote by William Gibson, science fiction novelist and the first person to coin the phrase "cyberspace".
In this article I will highlight seven of the most innovative and ground breaking outdoor products that are leading the way in creating the outdoor spaces of tomorrow.
The common thread that connects this eclectic mix of brilliant and bold innovations is that in each case their creation has emerged in response to addressing at least one the following:
Environmental challenges faced by our planet
Emerging trends exploring how our everyday lives can be improved by the use of technology within urban design & landscape architecture.
Evolving work & lifestyle habits of a rapidly changing workforce and tech savvy, health conscious consumer population.
Believe it or not, all products featured here are commercially available designs that are currently in production and being adopted each day in ever growing numbers around the world – no conceptual pipe dreams here!
1. Tesla Charging Station – No introduction necessary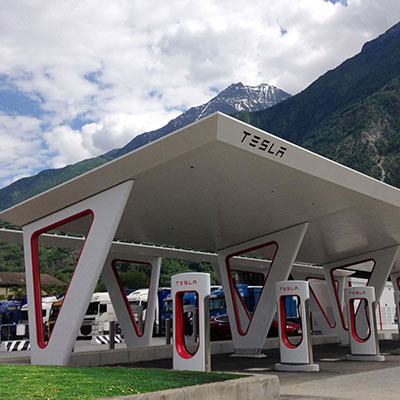 When he's not developing rockets that can return back to earth and land vertically on a moving ship (see SpaceX) Elon Musk uses some of his "spare" time designing the cars of the future.
So, it's only fitting that when you are driving your virtually silent uber-cool car from 0 to 60 mph through the Italian alps, you should pull up to an equally space aged super-fast charging station.
Step forward Italian street furniture supremo Metalco with their bespoke project to create a Tesla Supercharger Station. Consisting of six canopies designed to host photovoltaic modules, this is anything but your average outdoor shelter project. Bold lines and an audacious mix of materials, blending the solidity of steel with the aesthetic precision of fiberglass combine in an end result typical of the finesse and skilled precision that Metalco are globally renowned for.
2. Go Outdoor Table - Connecting people, technology and nature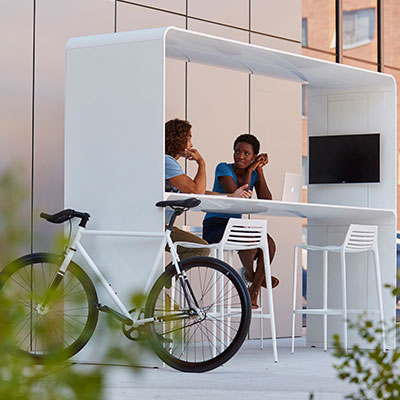 The GO Outdoor Table creates a focal point and a gathering place in settings where people live, learn, work, care, play and travel. In standing or dining heights, with or without stools or chairs, GO invites people to sit, stand or lean in postures that suit the purpose.
This table has everything you need for hanging out with friends, colleagues or classmates whilst soaking up the sun and breathing in fresh air. It also allows you to charge your phone or plug in your laptop to continue working. In addition to the standard mains powered unit, it can also provide power off the grid with an option for an eco-friendly solar powered version.
In an ever more connected world, where the boundaries between work & play are dissolving, and technology is freeing us up to be increasingly mobile and flexible in our lifestyles, the GO Outdoor provides the perfect setting (or sitting?).
3. Newwind – A biometric wind turbine (that looks like a tree!)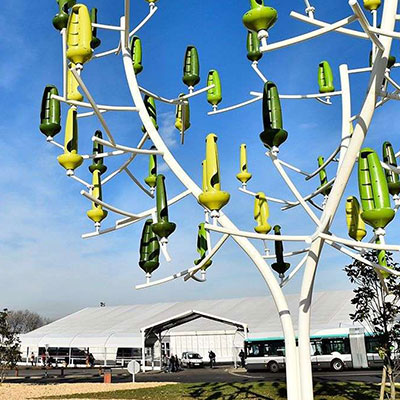 A common barrier to the wider use of large commercial wind turbines in urban or rural dwelling areas is "NIMBYism"; namely the fact that whilst most people "in theory" want to save the planet, as soon as you tell someone you are going to install a giant white futuristic windmill near their home, you will be met with loud protests of "not in my back yard!".
Which is perhaps a fair enough statement, if they are large, noisy and in some peoples opinion, rather unsightly. However a French revolution is on the march in the form a new technological innovation. French company New Wind have pioneered a wind turbine that looks like a tree! Cool eh?
The "Wind Tree" combines the technology of wind turbines into small capsule shaped pods. Known as "The Aeroleaf ®" these are the smallest turbines to have been created and are available in a range of colours.
So, how much energy can a tree with tiny turbines create?
To put it into perspective, one Wind Tree produces enough energy to power…
15 100W LED Street Lights
100m2 offices
83% of the electricity consumption of a French household excluding heating
Lighting for 71 outdoor parking spaces
A 10,168 mile journey for an electric car
The Wind Tree also has options for USB charging, electric car charging and lighting.
The company brand strapline is "Made for cities, inspired by nature" and this certainly rings true with their ingenious New Wind product.
4. The Airbench – A pollution free resting place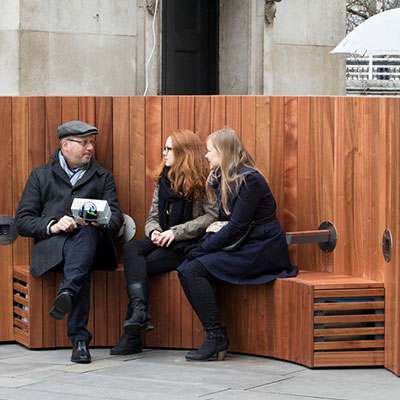 "Give your legs and your lungs a break" with the Air Bench.
Air pollution is suffocating the world's cities. A small Danish company have made it their life's mission to fight air pollution and make air breathable again. Airlabs have created a bench that can suck up the polluted air, filter it, and pump out clean air.
Air pollution is the biggest environmental health crisis on the planet, with 1 in 8 deaths linked to it. The Air Bench is not only providing futuristic seating but is tackling the air problem head on.
Pollution has been linked to reducing life expectancy by 16 months in London, the UK's capital, and over 4 years in some major cities in China. People die from air pollution related diseases six times more than from people with Malaria and four times more than HIV/AIDS.
The Airbench is curved and has a high back to make the clean air remain contained within the space of the people sitting on it. The bench was first showcased in London as part of the Space to Breathe Exhibition in Jan 2017.
5. Point Sun – Solar-powered LED lights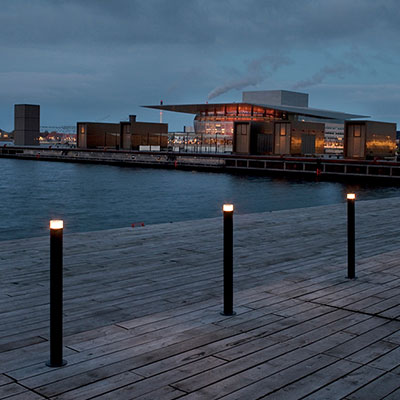 "Yeah and so what?" I hear you say? "Solar powered LED lights are nothing new". So what is it that's so special about these in public LED lights from Danish outdoor furniture design firm out-sider? Well I'll tell you….
If like me you live in the upper reaches of the northern hemisphere, you may or may not be aware that many standard urban furniture solutions that are supposed to be solar powered simply don't work in locations above a certain latitude due to lack of sunlight. This renders them largely redundant or at least offering poor performance for significant portions of the year.
Step forward the Point Sun, with built in software that allows an engineer to programme the LED settings to 1 of 5 world zones. These zones each contain the calculations of average hours of daylight in that region over a span of 12 months. The software also has an intelligent processor to ensure optimum energy storage and light optimisation as well its own on board real time clock (RTC)
Et voila, consistent results every time! Guaranteed to turn on automatically after dark with seasonal adjustments, wherever you are in the world - even in winter when the sun light is minimal!
6. My Equilibria – Is it art? Or high end wellness equipment?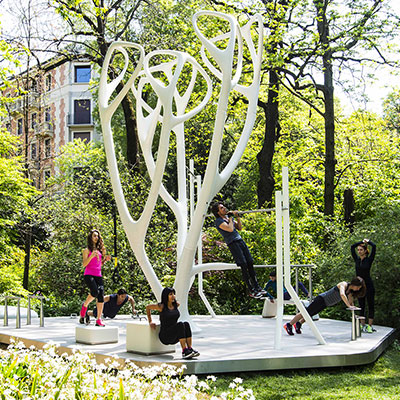 Technology is touching and improving all parts of our lives more and more each day. And with the advent of the Fitbit and other wellness trackers, the health & fitness industry is no exception. One company is aiming to help people exercise more, by creating a versatile piece of stunning sculptural gym equipment for use outdoors.
The My Equilibria, is billed as "The World's First Outdoor Fitness System that is based on Instinctive Body Movements". This unique design is a game-changing concept that redefines workout experience and tears down boundaries between art, high-end wellness equipment and community.
Equilibria translates to balance, My Balance, finding a balance in life is what most people strive to achieve, a balance with work and home life, a balance of the food we eat, a balance with working out Vs relaxing. Finding a balance for being physically healthy is easier with this cutting-edge outdoor equipment.
7. Justin Beaver – Epic Playground Design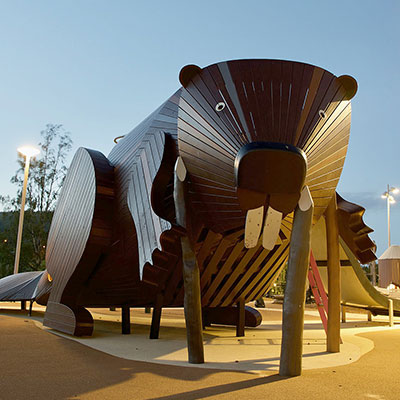 (Ok so this one gets our vote on the name alone!) For the last several years, Danish design firm MONSTRUM has constructed wildly imaginative playscape features for playgrounds around the world with an intense focus on both artistic and architectural quality. This is thematic playscape design on a grand scale.
Past designs have included rocket ships, sunken galleons, Chinese palaces, giant sperm whales…you name it, they've created it.
Based on visual arts and design, MONSTRUM create thematic playgrounds that are intended to fascinate and inspire both children and adults. Their aim is to make playgrounds that can not only be climbed up or swung on, but can also act as place where there is space for imagination to run free. On behalf of parents everywhere, and for the child in all of us, MONSTRUM we salute you!
Here's to a happier, healthier, inclusive, sustainable world through the power of innovation and design.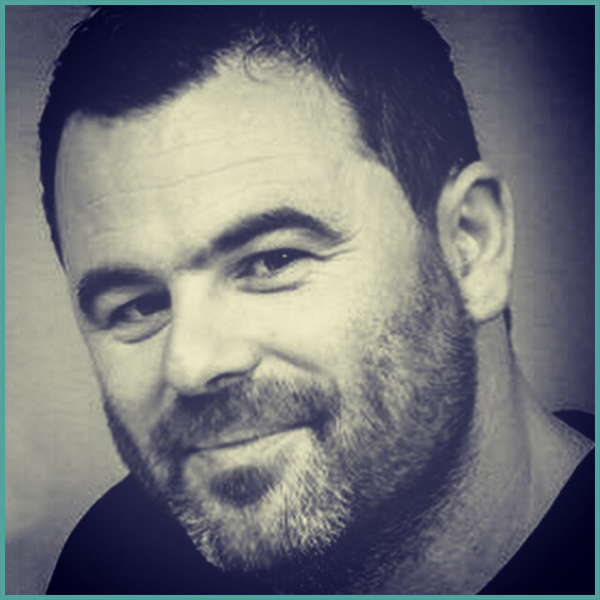 Paul Garratt
Marketing Director
Artform Urban Furniture
---
Artform Urban Furniture | Adlington Business Park | London Road | Adlington | Cheshire | SK10 4NL
Tel:
0800 542 8118
| Int:
+44 (0)1625 877554
|
enquiries@artformurban.co.uk