A fresh approach to urban space design from Denmark
Posted on 16/10/2017

On Thursday 5th October Artform Urban Furniture signed an exclusive agreement with Danish furniture design company out-sider to become their exclusive partner in the UK.
The trade partnership further enhances Artform Urbans position in the UK marketplace as a leading provider of design-led public realm furniture for both outdoor & indoor spaces. Equally significant is the new collaborations promise to introduce fresh ideas not previously seen in the UK, especially the utilisation & activation of shared public spaces via innovative furniture design concepts and behavioural insights from Scandinavia and beyond.
Rethink Urban Space
Over the last 10 years "out-sider" have developed a core design philosophy that is unique and aims to ensure that…
Products are multifunctional.

Products can be used as temporary installations.

Products are inclusive and for all people within society regardless of age.

Products feature integrated technology where possible
To quote their own direct explanation of this approach, "out-sider titillates your senses and challenges the existing with brave new furniture". Perhaps a key point about why this brave new furniture so successfully addresses current needs and emerging trends is that the company's aim is not to design products themselves.
The products are all born via a collaborative creative process with external architects and designers from Denmark and around the world.
With a healthy mix of experienced designers and new upcoming talents, all enjoying success within architecture, urban space, furniture design, lighting and other long-lasting consumer products, out-sider are able to capture and use that passion & eclectic experience to create new forms, new experiences and (they hope) new design icons of the future.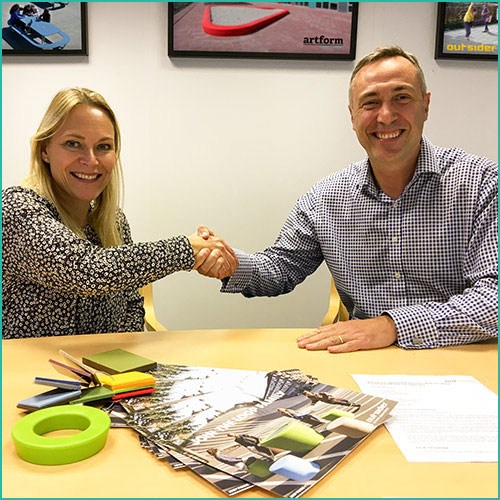 A Shared Vision
The partnership between out-sider & Artform was the result of out-sider export director Stine Juelner approaching the UK street furniture supplier directly.
"I recognised that Artform represented an ideal fit in the UK for the out-sider brand and felt there was a natural synergy between the two companies" Stine explains.
Artform Managing Director David Pringle agrees on the suitability of taking on the out-sider product lines for the UK marketplace.
"The bold colours and innovative shapes from the out-sider collection are like nothing else in the UK market and provide a new dimension to our offer that perfectly complements our existing theme of innovative, award winning, internationally designed urban furniture"
The entire out-sider range is available exclusively in the UK via Artform Urban Furniture and can be viewed here.
---
Tel:
0800 542 8118
| Int:
+44 (0)1625 877554
|
enquiries@artformurban.co.uk