Voices in the Landscape #1 Peter Murray
Posted on 13/09/2016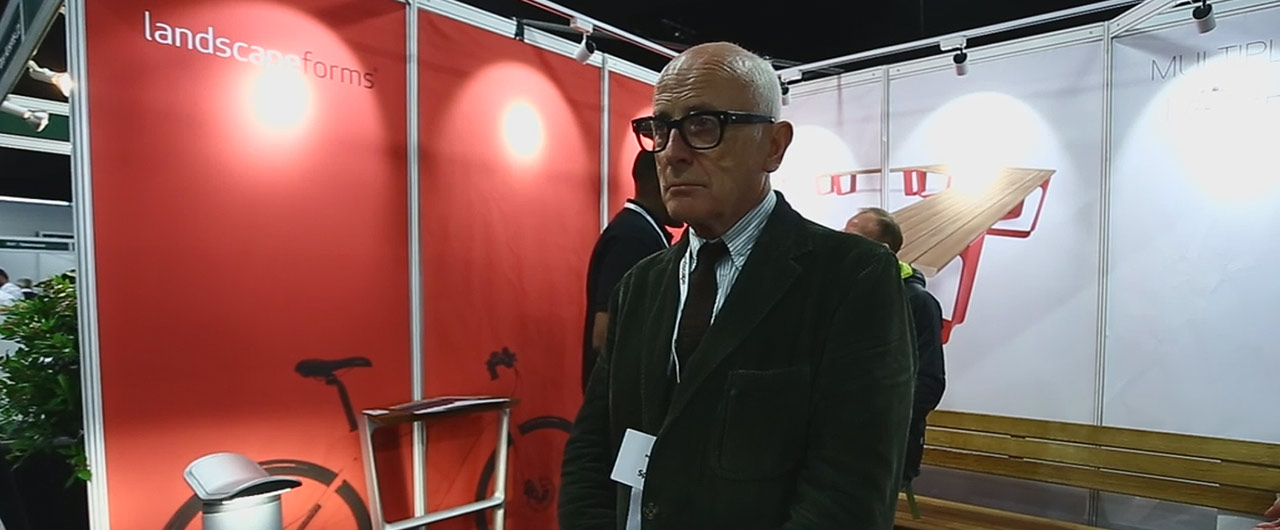 Artform Urban Furniture caught up with Peter Murray at the Landscape Show to discuss, amongst other things, the importance of high quality public spaces in our cities.
BIO: Peter Murray trained as an architect but has spent most of his career writing about and commenting on architecture. He edited the weekly newspaper for architects, Building Design, before moving on to the Royal Institute of British Architects Journal. Peter also started the London Festival of Architecture which began life as the Clerkenwell Architecture Biennale in 2004. The Festival is now a significant annual event in the cultural life of the capital.
Peter has written numerous books including The Saga of Sydney Opera House, London's Growing Up - about the new towers - and Great Estates.
He is a keen cyclist and in 2006 cycled to Cannes for the MIPIM real estate show held there every March. This has grown into an annual ride comprising architects, developers and consultants who raise a quarter of a million pounds each year for charity. He was a finalist for the London Cycling Campaign's Cycling Champion of the Year 2015 and is a member of the Construction Industry Cycling Commission.
ARTFORM URBAN FURNITURE: Peter, why are high quality public spaces so important in our cities?
Peter Murray: I think that today, new public spaces are really important because we're looking at building our cities more densely, particularly in somewhere like London, where we're seeing an increase in population. There's going to be more people per square kilometre, so we have to make sure that they not only have the offices and housing that they need to live in but also that the public spaces and streets between them are also of the highest quality. It's very important that they are spaces that people enjoy using and that we make experiencing the city a pleasure.
AUF: How have public spaces changes over the decades?
PM: For the last 40 or 50 years our cities have been overrun by cars but I think we're beginning to see a move away from traffic dominating our streets to an interest in walking, cycling, public transport and with that comes better landscaping, better surfaces, better pieces of city that people like being in. We see the taking over of existing road spaces for pedestrianisation, transport that joins together people who want to walk and people who want to cycle. A more integrated way of getting around the city that's not just nice to do but is cleaner and less polluting. We want to make sustainable cities which are green and pleasant.
AUF: Fantastic. And it's interesting that the onus and the responsibility for doing that is not necessarily just with the public sector now but it's more and more the case that private and public partnerships play a big role too, especially in a place such as London. So is that becoming more important, that private developers play their part in developing these high quality spaces?
PM: We're seeing an increasing amount of public space which is actually privately owned and this is for a couple of reasons; one is that the private sector is delivering a lot of new development which is funding amenities and public space is one of those key amenities. It's also funding affordable housing, it's also funding other community benefits but new spaces are very important. Also, the development community understands that actually, good public space is beneficial for their property, for leasing their properties and for creating environments that continue to maintain their value over time, so there's a win-win situation there.
What we need to do is make sure that we manage this properly so that they are a benefit to the public as a whole and make sure there's not too much security, too much control by the private sector and that we have some form of understanding across London of the way we can use these spaces – what you can do in them and what you can't do in them. Even publicly owned public parks have lots of by laws which control what we do in them. Public space also needs to be controlled even when it's privately owned but we need get that balance right.
AUF: Peter thank you very much for your time today
---
Tel:
0800 542 8118
| Int:
+44 (0)1625 877554
|
enquiries@artformurban.co.uk