ANDREA MORGANTE SHIRO STUDIO
from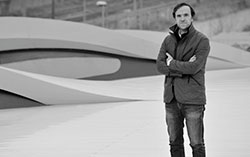 Shiro Studio is a London based design practice established by Andrea Morgante in 2009, committed to the creation of unique architecture and objects. We believe in integrity of materials, purity of perception, and coherence. We believe objects and architecture should be tactile, evocative and unexpected. Nature's efficiency, digital fabrication and art are recurrent trajectories of investigation that permeate our visual language and design process.
Shiro means 'white' in Japanese, but here it implies a philosophical translation where white is perceived as the purest creative approach. Shiro is the infinitesimal fraction of time before an idea is represented on a blank piece of white paper. It is here, in this tension between inception and the beginning of the design process, that the purity and integrity of creativity is found.
Andrea Morgante is a registered ARB RIBA Architect in the UK. After working in 1997 with RMJM in London he joined Future Systems in 2001 where he became Associate Director, working closely alongside the late Jan Kaplicky. In 2008 he collaborated with Ross Lovegrove, developing a number of innovative self-sufficient energy projects. In 2012 Andrea completed the construction of the Enzo Ferrari Museum in Italy.
Shiro Studio is continuously engaged in architecture and product design. Since 2009 the studio has completed projects for, amongst others, Ferrari, Alessi, M&C Saatchi, Peroni, D-Shape, Agape, Poltrona Frau, Seiko Japan, Electa. Andrea's work has been extensively published on numerous magazines and book, including Wallpaper, Casabella, IW, Casa Brutus, The Independent, Architect's Journal, Blueprint, Icon, Interni, Stella Magazine.
---
Artform Urban Furniture | Adlington Business Park | London Road | Adlington | Cheshire | SK10 4NL
Tel: 0800 542 8118 | Int: +44 (0)1625 877554 | enquiries@artformurban.co.uk