BSFG Product Focus - EasyLift Premium Two Tier Cycle Rack
Posted on 11/01/2023

The Government has long been publishing plans and strategies to outline its commitment to deliver "a world-class cycling and walking network for England by 2040"
However, currently the biggest barrier to cycling and walking in the UK is that our streets are not designed to make this easy! Streets that are cycle-friendly help to develop healthier and happier communities, where it is safe and pleasant to cycle. 
Cycle parking is of course integral to having and using a successful cycle network. As our infrastructure slowly grows the need for secure bike storage increases. Gone are the days of clipping your bike to a lamp post, our bikes have advanced in technology and price! A valuable asset.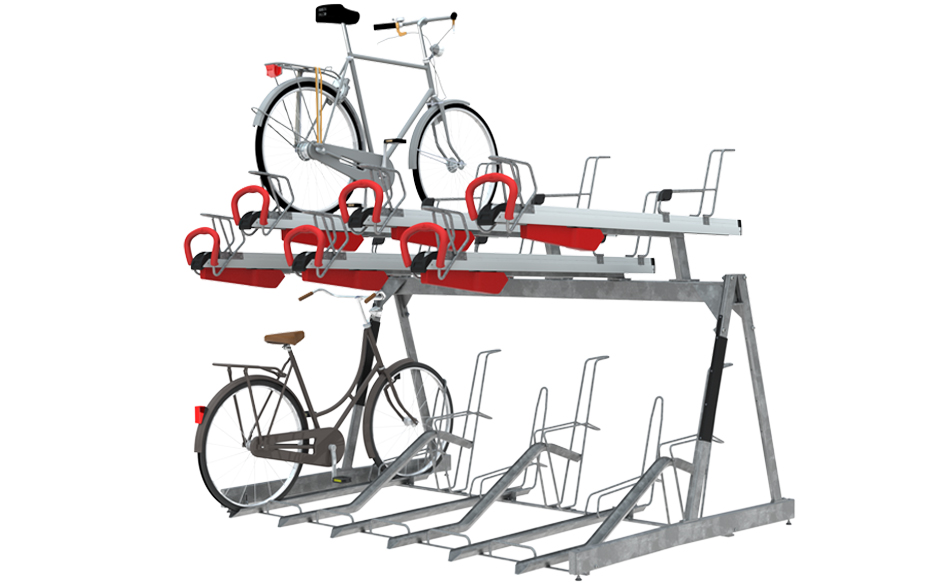 EasyLift Premium Two-Tier Cycle Rack is a cleverly designed and convenient two-level bicycle parking system. Two levels mean that of course the parking capacity is doubled! In many of our urban areas, whether recreational or work, space is always of a premium.
The EasyLift Premium is gas-assisted, this lifting system allows your bike to be parked on the top level pretty much effortlessly. The end of the light-weight aluminium upper track rests on the ground so that the bicycle can simply be wheeled onto it with hardly any lifting.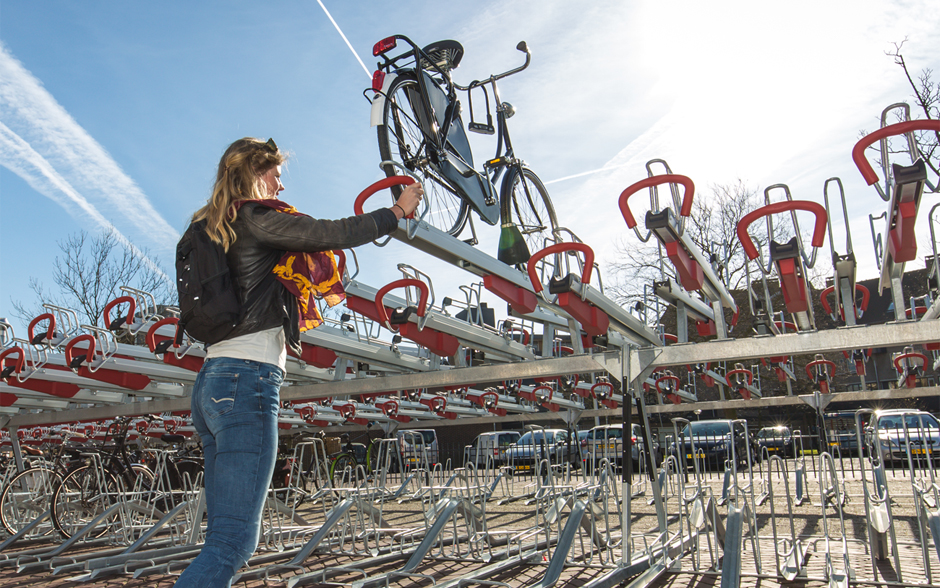 This product is designed in Holland and manufactured in Europe by Velopa, it has all the quality assurance that you would expect. It is free-standing which is useful with no ground fixings required. The rack has been designed so that several units can be bolted together to form a continuous line of parking. 
Of course, security is paramount and each rack contains 3 individual locking points, so you have the reassurance to know your property will be secure. Height-wise, allow 2.6 m clearance. 
Recently Network Rail installed 10 bays of Cyclepods EasyLift Premium Two Tier Bike racking at Bristol Temple Meads Station, many commuters travel from Bath and the surrounding areas by bike and the station was in desperate need of safe bike storage. 

Jon Turton, Network Rail, Project Manager, said: "We understand how much cyclists value the convenience of the cycle storage facilities that are available at the station and we wanted to provide the best possible experience for passengers by making sure the new cycle storage was user friendly and easily accessible.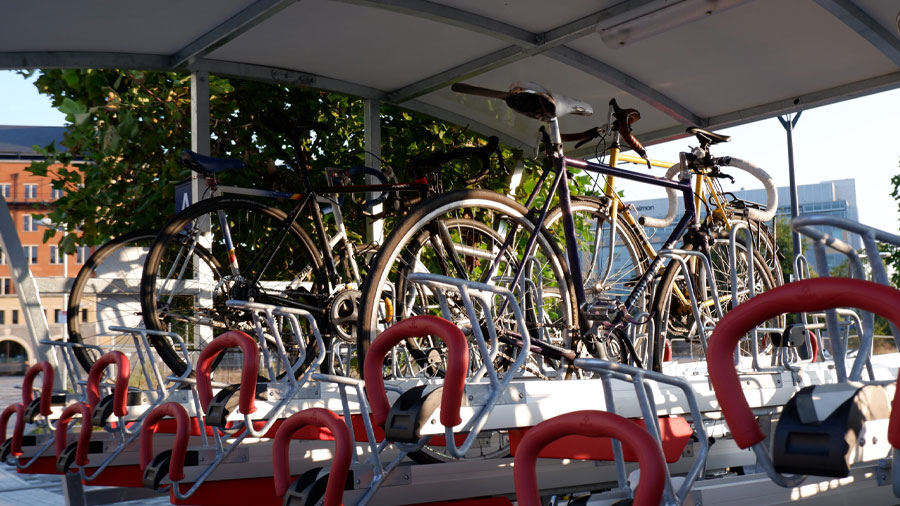 The racks are covered by Cyclepods' specially designed 'Brighton' two-tier shelter, specifically for the Easylift two-tier racks to curve with the arc of the upper tier when loading and unloading which provides ample height for all types of bikes. The 'Brighton' shelters the bikes in both tiers as much as possible whilst maintaining clear and open lines of sight for better security.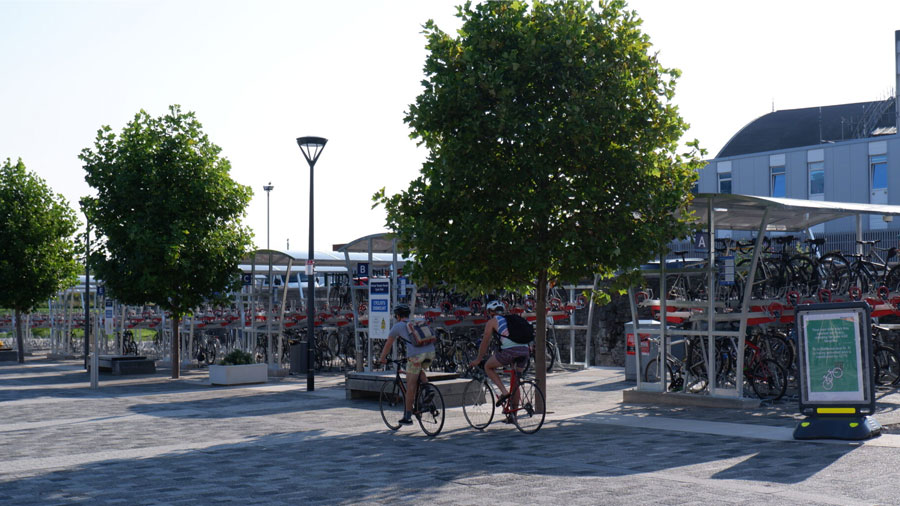 Security has been carefully considered as the racks are next to a main public thoroughfare, making the area open to constant foot traffic. As well as the CCTV and PIR lighting security measures, the racks are regularly patrolled by British Transport Police.
Each cycle parking space in the racks has 3 locking points so cyclists can lock both of their bike wheels and the frame, this is in line with advice from British Transport Police who recommend using at least 2 locks to secure at least the back wheel and the frame of a bike to keep it safe.
The main benefits of the EasyLift Two Tier are as follows:
Gas-assist lift means users don't have to lift the full weight of their bikes, only the front wheel, so cyclists of all ages and abilities can use the upper tier. Top-tier racks can take the weight of a 23kg bike.

Wide space troughs for each bike which allows up to a 50mm width tyre, with head height for up to a 139 cm tall bike on the upper tier and 120cm bike on the lower tier. Each bike is held separately and securely in its own trough to stop bikes from knocking into each other or getting tangled together.
Generous spacing of the racks allows for pannier racks.
Three locking points are available per space, one for each wheel and another locking point in the middle for the bike frame.
Plastic grip handles for a better grip and for easy use all year round, metal handles get cold in winter!
Easy glide casters on the top racks for smooth and quiet operation.
Network Rail has made a short video on how to use the new racks which you can find here.
And Cyclepods have two videos showing how to securely lock your bike in both the upper and lower tiers View here
Cyclepods is part of Bailey Street Furniture Group. For more information please visit https://www.bsfg.co.uk/ or contact the team on 01625 322888 or email enquiries@bsfg.co.uk.
---
Artform Urban Furniture | Adlington Business Park | London Road | Adlington | Cheshire | SK10 4NL
Tel: 0800 542 8118 | Int: +44 (0)1625 877554 | enquiries@artformurban.co.uk