TOAN NGUYEN
from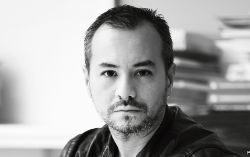 Graduating from the ENSCI (Paris) in 1995, Toan Nguyen pursued his training in Barcelona with Alberto Lievore, moving to Milan in 1996, where not long after he took over as head of Antonio Citterio's design department, with whom, for nearly ten years he was to sign lines for, among others, Axor-Hansgrohe, B&B Italia, Flos, Iittala, Kartell, Technogym, and Vitra. In 2009 he founded his own studio in Milan, subsequently embarking on a series of successful collaborations with several major brands in high-quality industry and fine craftmanship in Europe, North America, and Asia, on furniture, lighting, ceramics, as well as on technological products.
For Toan Nguyen design is a discipline intimately bound up with the object, in the traditional sense of the term. Priority is given to physical relationships with users—to them sitting, washing, lighting, etc. Displaying an immediate sense for meaningful utilization, precedence is accorded to intelligible forms and optimized manufacturing processes, without, however, ever neglecting the sensuality of materials and the emotional impact of the object.
Toan Nguyen's creative individuality has been acknowledged by flagship contemporary design brands such as Dedon, Laufen, Bugatti Home, Fendi Casa, Coalesse, Teknion, Studio TK, District Eight, Vibia, Viccarbe, Walter Knoll, Lema, Busnelli, Wendelbo, RH, among others, a substantial number of whose creations have been awarded prestigious international prizes.
AWARDS
2008 - TORINO: XXI Edizione del Premio Compasso d'Oro ADI
La Collezione Storica del Premio Compasso d'Oro
COMPASSO D'ORO ADI 2008: SEGNALATI
Panca SEDIS TORSION Metalco >Antonio Citterio con Toan Nguyen
Patrimonio culturale del Design Italiano

2011 ROMA
PALUS - MENZIONE D'ONORE COMPASSO d'ORO ADI
La Giuria Internazionale del XXII Premio Compasso d'Oro ADI ha conferito al prodotto: PALUS - design: Antonio Citterio con Toan Nguyen
la MENZIONE D'ONORE COMPASSO d'ORO ADI
---
Artform Urban Furniture | Adlington Business Park | London Road | Adlington | Cheshire | SK10 4NL
Tel: 0800 542 8118 | Int: +44 (0)1625 877554 | enquiries@artformurban.co.uk