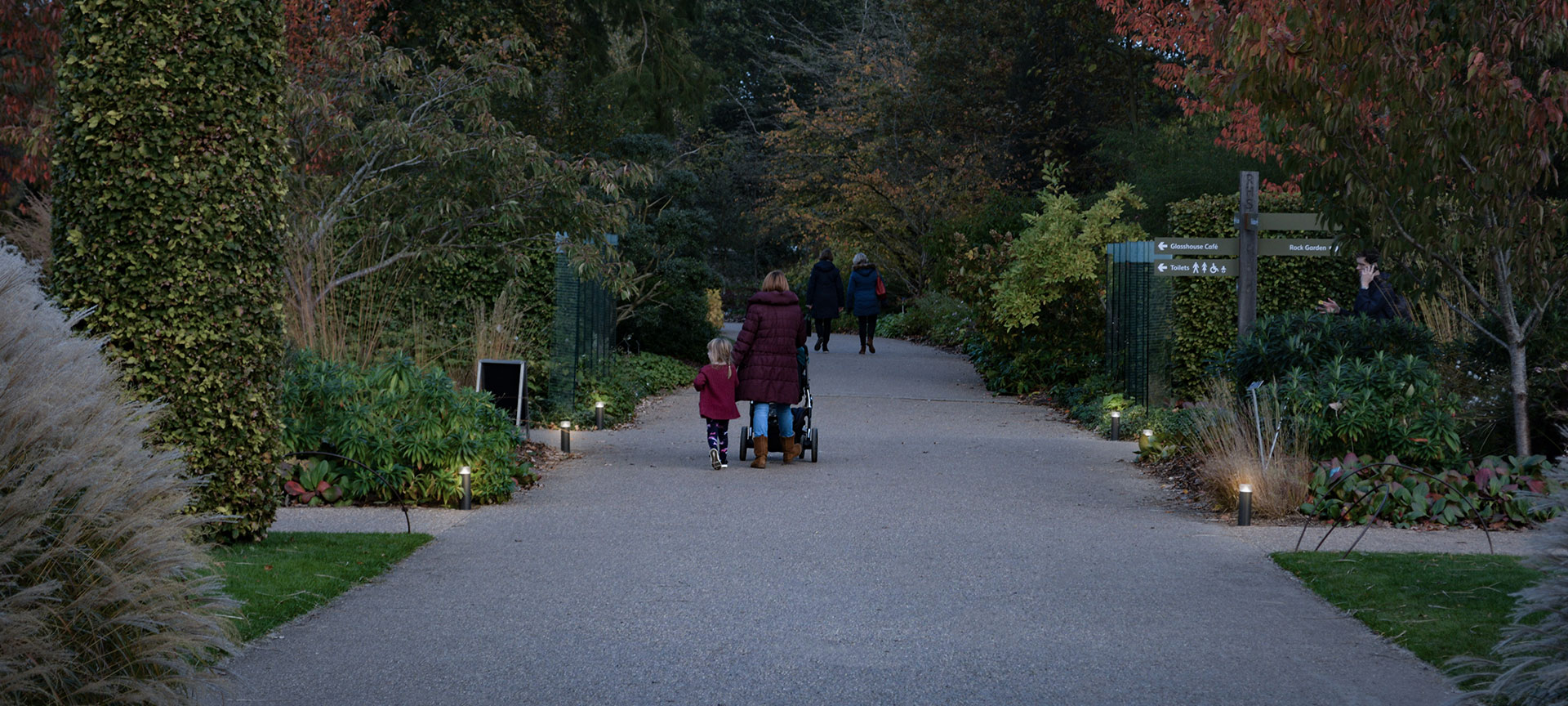 RHS Wisley Gardens
RHS Wisley Gardens Project Details
Project Name: RHS Wisley Gardens
Location: Wisley, Surrey
Client: The Royal Horticultural Society
Value: £48 k
Completion Date: October 2019
Products Used: Sunstone, Point Sun Bollards
Artform Urban Lighting the way at RHS Wisley Gardens
Artform Urban recently supplied a range of solar powered lighting elements to The Royal Horticultural Society's garden, Wisley in Surrey. The requirement for the job was for external lighting in prominent parts of the gardens to assist with wayfinding when dark.
Due to the size of the gardens the use of traditional outdoor lighting with permanent wiring was considered an expensive option. The digging of trenches for the wiring would also cause major disruption to the park along with a real potential of damage to rare species of plants.
The Solution to the RHS brief from Artform Urban was solar powered elements which do not require wiring and only minimal labour when installing.
The Point Sun and Sunstone are 100% cable free, self-charging ambient light sources. Designed by Faktor 3 they combine very simple design with effective and sophisticated technology, to create a product rooted in Scandinavian design traditions.
These products also add huge sustainable value from an environmental aspect as they use renewable energy directly from the sun.
The end result is that visitors and staff can now walk around safely in the dark thanks to eco-friendly lighting. No plants were damaged during installation.
The Royal Horticultural Society's garden at Wisley, Surrey is one of five gardens run by the Society and the second most visited paid entry garden in the United Kingdom, with an average of 1.1 million visitors annually. Founded in 1903, Wisley is a large and diverse garden covering 240 acres.
For further information about these products or about this project
Feel free to contact the team on enquiries@artformurban.co.uk
Artform Urban is a Bailey Street Furniture Group company. Their vision is clear – to design, manufacture, install and improve UK outdoor spaces with stunning architectural street furniture, structures and play equipment.
For more information on the Bailey Street Furniture Group please contact them on 01625 322346 or email enquiries@bsfg.co.uk. To view the company's range of high quality street furniture brands, visit www.bsfg.co.uk