How Canopies Unlock Potential and Add Functionality in Outdoor Spaces
Posted on 13/02/2023
Providing shelter and protection from the elements is one of the most powerful ways to give new purpose to outdoor spaces, no matter how large or small.
From the simplest of canopies fitted over an entrance door to protect building users from the weather to extensive walkways for pedestrians transferring between buildings, the scope for canopies is vast with the range of options available.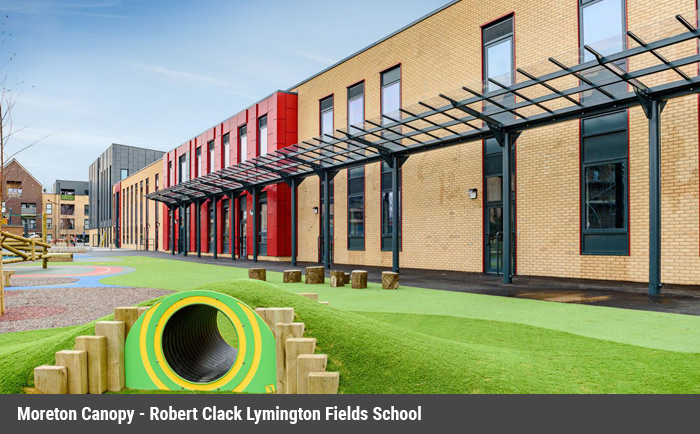 They can be used to improve the experience of building users, bring completely new use to an outdoor space, or enable a site's disconnected buildings to be brought together to form a single facility without the expense of major development or building works.
The starting point is to consider how a canopy or shelter could enhance the building or site. Every requirement is different which is why bespoke designed and manufactured canopies provide the most value. That does not mean every canopy starts with a blank sheet of paper – clients can choose from a wide range of canopy styles to apply to their project including free-standing, gullwing and cantilever versions.
Where and when to use a canopy
The versatility of canopies makes them suitable for use in numerous applications across numerous sectors.
One of the most common uses for a canopy is to provide pedestrians with shelter from the weather when using footpaths close to buildings, on access routes to a building's main entrance or between buildings. But they are also widely used over entrance doors and outdoor spaces where people may gather, such as pick-up points outside a building.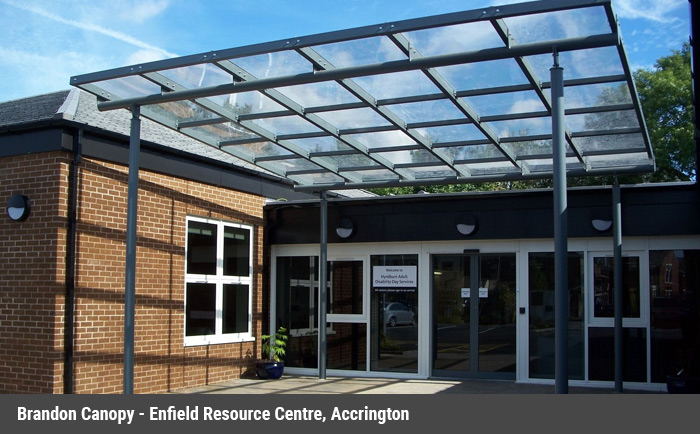 Canopies can be attached to buildings to create shelter for bicycles, scooters, e-bikes, trollies and other equipment, as well as over parking bays. They can even allow for additional merchandising spaces in retail environments.
The greatest scope for canopy usage is for public buildings, particularly those in the education sector.
Schools, colleges and universities can utilise canopies to maximise the value of outdoor areas, such as courtyards and playgrounds, as well as to extend their teaching facilities. Having access to an outdoor classroom space can add a whole new dimension to the learning experience. Additionally, Canopies can be utilised to provide cover for bicycle parking, school bus pick-up points and social spaces.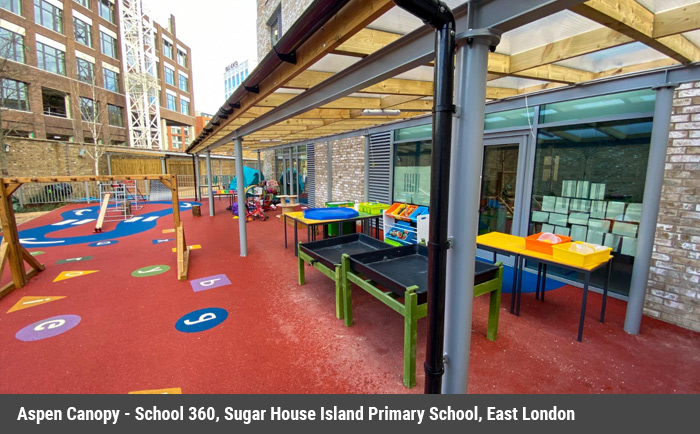 Hospitals and healthcare sites can benefit from canopies in similar ways, with the additional requirement to protect people from the elements being a key factor.
Other sectors where canopy potential is strong include transport, retail, hospitality and commercial offices, where it is important to deliver a positive user experience.
Transport interchanges often feature outdoor spaces where travellers must move from indoor spaces via outdoor areas to reach their mode of transport. At these points, it is important to minimise the risks from the weather to avoid customer experience dissatisfaction.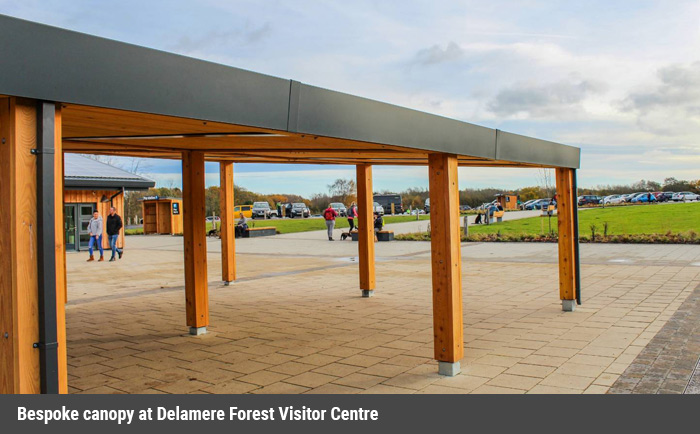 Industrial sites, sports grounds, parks and leisure facilities, tourist attractions and aspects of the public realm can all utilise canopies too.
What benefits can a canopy bring?
The main advantage of installing a canopy is the added value it will bring to an outdoor space. We have seen a strengthening of the British public's appetite for being outdoors in recent years, driven by trends like al-fresco dining and dramatically increased further as the health benefits were realised during the pandemic. But given the UK's climate and unpredictable weather, shelter is essential for our outdoor spaces to be usable all year round.
Creating sheltered areas immediately adjacent to a building can increase the floor space available indoors, effectively extending these spaces outside to give the customers and building users an additional covered area to arrive, depart, meet and dine.
Canopies can also support sustainable building goals too. Given their relatively large upward-facing surface area, they can be designed with integrated photovoltaic panels to generate clean electricity. Alternatively, the canopy can feature a green roof to encourage biodiversity as well as numerous other environmental benefits such as reduced rainwater run-off and climate cooling.
Get to know the most important standard for canopies – BS EN 1090
When considering the options for a canopy, it is important to ensure it is manufactured in accordance with BS EN 1090. This is a harmonized standard that covers structural/construction steel and aluminium products which are permanently installed.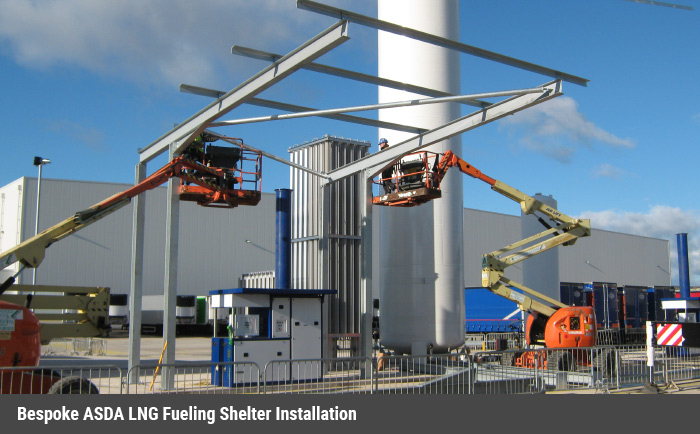 Given the safety-critical nature of fabricated steel products, compliance with BS EN 1090 has been a legal requirement for companies involved in the manufacture or supply of fabricated steel products since 2014. The standard has enabled applicable products to be CE-marked. This will eventually be superseded by the UKCA mark which will become a legal requirement in June 2025.
BS EN 1090 is important because it demonstrates that the canopy has been produced with complete traceability, compliance and verification throughout the manufacturing process – with all aspects of manufacturing being compliant with the standards. It is a far-ranging standard that covers everything from material certification and correct storage to staff training, quality control, product testing, document and records control, product identification/marking and auditing.
Key considerations for canopy design and installation
Bailey Street Furniture Group has a wealth of experience to help ensure a canopy project is delivered successfully and the finished installation meets the design intent without major problems during its service life. Every project starts with a number of important considerations which will need addressing at the design stage.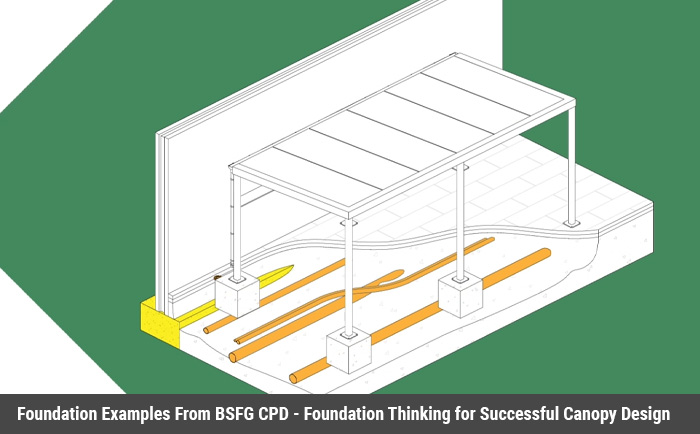 One of the most important is the foundations. As with any structure, a canopy is only ever going to be as structurally sound as the foundations on which it is built. That is why the design and position of canopy legs must be compatible with the ground conditions.
In addition, the design must consider snow load effects, drainage, how it will be maintained and cleaned and its impact aesthetically. Compliance with the Building Regulations will also be needed if the canopy is attached to a building.
How Bailey Street Furniture Group can help you
The Bailey name has been synonymous with high-quality and reliable external furniture for almost 20 years. Today – as the Bailey Street Furniture Group – the business is formed of four brands, each providing a unique service in the supply and design of external spaces.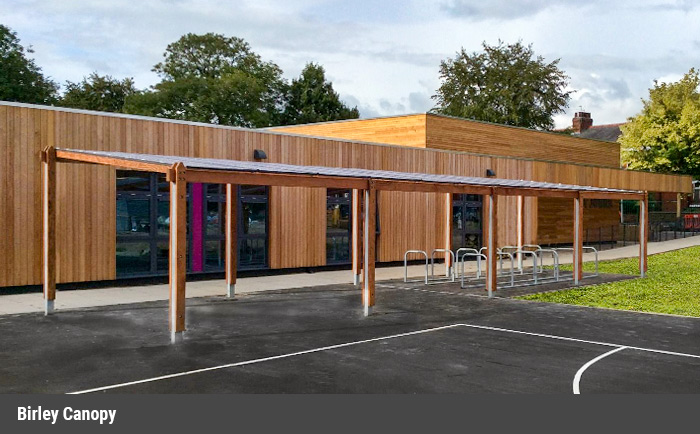 We have established ourselves as canopy experts over two decades with extensive support to our clients from the initial concept right through to post-completion checks.The variety of designs available provides a solution for virtually every application. From a simple free-standing canopy such as the Brandon or Birley to the eye-catching Arbor or Benfield canopies which can add visual interest and differentiation to an outdoor space, it is a range to meet every need, size, location and budget.
The Bailey Street Furniture Group canopy designs are not restricted to those in our range. We also offer bespoke canopy solutions provided by our knowledgeable and experienced team, complete with a full in-house design service. It gives us the ability to create any bespoke street furniture and public realm elements, to your exacting requirements and specification.

We also support architects and specifiers through our technical resources. These include two technical CPDs on canopies which are designed to provide valuable assistance to avoid the most common issues and achieve the most successful outcome.
Please visit https://www.bsfg.co.uk/cpd to book.
Find out more about our range of canopies and walkways at; https://www.baileystreetscene.co.uk/canopies-walkways 
---
Artform Urban Furniture | Adlington Business Park | London Road | Adlington | Cheshire | SK10 4NL
Tel: 0800 542 8118 | Int: +44 (0)1625 877554 | enquiries@artformurban.co.uk