Strata Beam Bench Goes Modular
Posted on 28/03/2022

Create a Design That's Uniquely Your Own
Introducing the Strata Beam expansion, a modular take on our popular Strata Beam family of benches and tables designed in collaboration with Jess Sorel. The Strata Beam expansion retains the original line's and material juxtaposition of warm, welcoming wood and sleekly sculptural ultra-high performance concrete, but now adds another dimension of creative freedom.
Join together STRATA Beam benches using the bridge legs and angle connectors to create an endless variety of shape and scale - from familiar U - and L- benches to striking snaking asymmetric runs.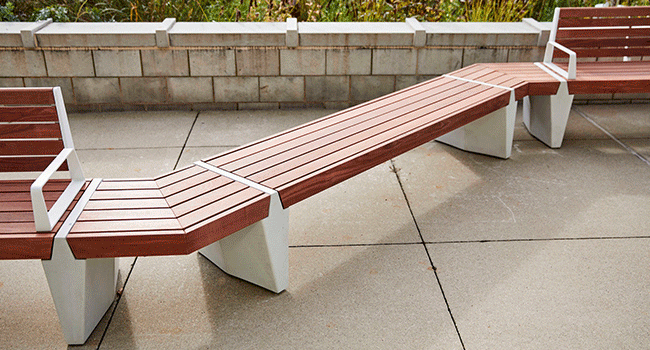 Create distinctive gathering and resting places in natural and urban settings.
Strata Beam marries Meldstone™ technology with timber in a stylish variation on the concrete and timber classic. Cast concrete anchoring elements are bridged by timber seat slats to form an uninterrupted span. The end pieces are subtly faceted which provide a pleasing play between light and shadow, and are available in white, natural, and deep grey colours. The timber seat offers warmth and softness where the body interacts with the material.
Combine with the Strata Beam Table for a comfortable outdoor setting with a distinctive designed picnic set. Pair with the smaller benches to provide wheelchair access.
---
Artform Urban Furniture | Adlington Business Park | London Road | Adlington | Cheshire | SK10 4NL
Tel: 0800 542 8118 | Int: +44 (0)1625 877554 | enquiries@artformurban.co.uk